[NOTE: Thanks to Kari Svenneby for introducing me to community ice rinks. She and her husband plan to build their first one this winter!]
I've been daydreaming lately about taking my boys to a Toronto neighborhood this winter to play outside.
Yes, Toronto. Outside. In the winter.
For at least one glorious month every year, when the weather is coldest, Glen Stewart Park in the Beaches neighborhood of Toronto is filled with skaters – pleasure skaters on one side, and hockey players on the other. The park is a quaint residential park, surrounded on all sides by houses. It's absolutely enchanting in the winter.

"The beautiful thing about this rink is that the kids can walk to it," said Thomas Neal, a neighbor who as taken charge of maintaining the Glen Stewart Park rink for the last 11 years. "There are lots of outdoor City rinks, but most people drive there."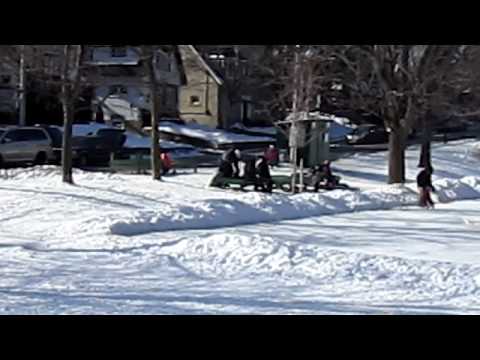 Thomas' family is deep into organized, team hockey. He coaches one of his boys' (aged 14 and 8 ) competitive teams. His daughter (11) figure skates at an indoor rink as well. However he considers the time his kids spend at the Glen Stewart rink to be very valuable.
"When kids play hockey here in the park, they learn to skate well, to handle the puck, more than they do in structured team hockey," Thomas notes. "Also, kids of different ages and ability levels get to play with each other, unlike in the leagues. In general, they get into a much wider variety of situations, so they have to get creative."
John Vlahos of Montreal, who runs mybackyardicerink.com, agrees with Thomas' points about hockey skills, but he says, "The biggest value is fun. It's free time for the kids. They're on a clock all the time at indoor rinks." John's three children play practically every day of the winter on a back yard rink that he builds every year.
Building and maintaining these outdoor rinks takes an awful lot of work. In fact, the Glen Stewart Park rink, which is much larger than most back yard rinks – almost as large as a regulation hockey rink – is practically a full time job. To set it up initially, Thomas works about 15 hours a day for three or four days: many iterations of flooding with water, letting the water freeze, and smoothing.
Then, once it's built, he or a colleague works on maintenance for a few hours late at night, early in the morning, and before kids get out of school in the afternoon. The maintenance work is very similar to what a Zamboni machine does on an indoor rink, but outdoor conditions (e.g. fallen leaves, snow, and melting) make it much more time-consuming and unpredictable.
Believe it or not, last winter, Thomas did almost all of this work on his own last winter because his trusted colleague was hurt. "I'm a real estate agent, and January is a pretty slow month. Also, because I manage my own appointments, I schedule them around my work with the rink and my coaching."
"I look forward to building our back yard rink every year. We're starting to plan it now [in early September, for a late-November build]," said John. "It's a lot of extra work, but we really enjoy it. You know, winter here's very harsh here, so building a rink makes it more fun. It makes it easier to go through."
"It is amazing how your attitude toward winter changes after you construct your backyard rink," writes ESPN.com hockey reporter John Buccigross, who also builds a back yard rink for his kids and neighbor kids every year. "You instantly root for cold temperatures. The cold is your ally. You are not depressed by the short, dry, cold days and nights, but rejoice in them. Without question, my life is better with my backyard rink. I'm happier, more upbeat and more attuned to nature."
Don't these homegrown outdoor ice rinks sound like fun? Wanna check them out with me?